Share
Issue Time

Nov 8,2022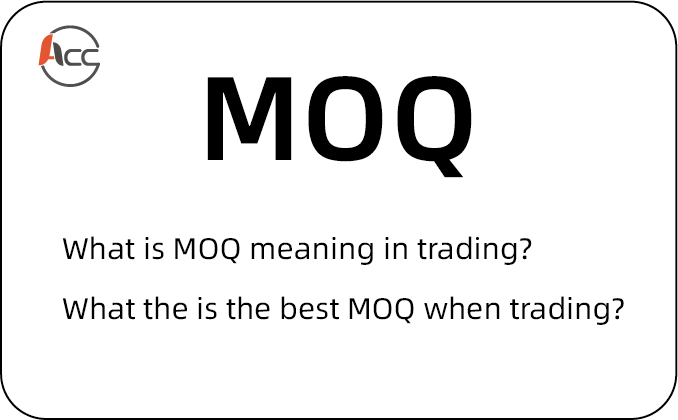 Suppliers set Minimum Order Quantities (MOQs) to protect their resources and maximize profits. MOQs may be determined by the number of units or total order value, but are designed to minimize waste in small orders. Whether you want a few items or many, suppliers use this rule to ensure they get enough business from your order for it all to be worth it.
How does having a minimum order quantity affect your inventory?
The minimum order quantity (MOQ) set by your suppliers has the potential to drastically influence your inventory management. How much stock you hold, how often purchase orders are placed and even the amount of warehouse space available will all be impacted in some way or another. If it is not possible to meet a supplier's MOQ then other options must be sought which may include paying an additional fee for lower quantities than that stipulated in the initial order request.
Gaining advantages of MOQs
Not only do MOQs benefit suppliers by increasing their profit margins, but they can also assist you in maintaining an efficient inventory system and reducing purchasing costs.
Benefits for suppliers
Improved financial liquidity.

When suppliers efficiently balance their total inventory cost with other necessary expenditures, their cash flow is more secure and predictable. Setting MOQs strategically ensures that they are able to reach the desired profit level while managing costs effectively.

By cutting inventory costs, you can save more and expand your business exponentially.

Many suppliers don't produce goods until they receive an order from a buyer who can meet the required Minimum Order Quantity (MOQ), which helps them keep their warehouse free of stock and reduce inventory as well as production costs.

Maximized profit margins. As noted, supplier MOQs are usually set up in a way that ensures a certain profit margin.

Often they will only order new stock when their sales reach a level that creates an operating profit. This means that even a relatively low MOQ will offer the safety net they need.
Benefits for buyers
Maximizing savings through bulk purchases.

Are you looking for ways to maximize your profits? Working with suppliers that have MOQs allows you to secure the best price per unit, as buying products in bulk is a surefire way of saving money and increasing profit margins on each item sold.

Strengthened relationships with suppliers for mutual success.

The amount you wish to purchase may be distinct from the Minimum Order Quantity your supplier requires. To reach a satisfactory resolution, work with them as it will help cultivate an enhanced and more trusting relationship between both of you.